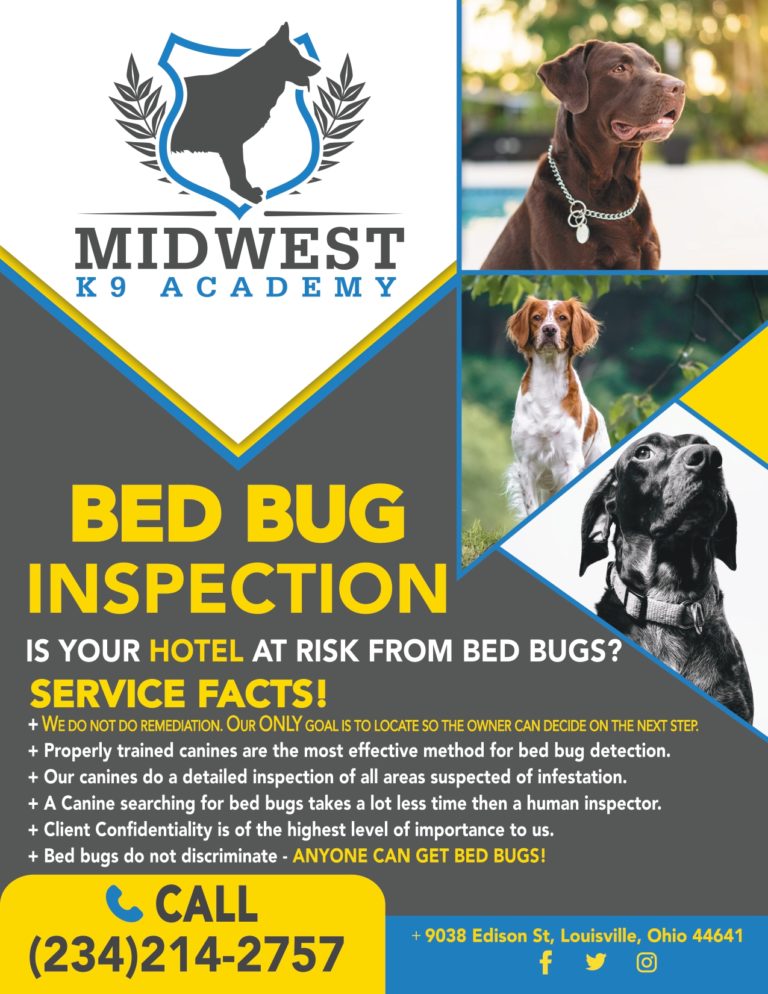 Nothing is more detrimental to a hotel's prosperity than an outbreak of bed bugs! Bed bugs are smaller than an apple seed and are often found hiding in:
Seams of Mattresses & Furniture

Behind Base Boards

Drawer Joints 
Electric Outlets & Appliances
Loose Wallpaper

Wall Hangings
In addition to being a major headache for your business, bed bug infestations can spread very quickly and create shutdowns in order to eradicate.
Early and regular inspections are the best, most reliable way to ensure your business is bed bug free. On the other hand, if you do have bed bugs then early detection is key to fewer problems in the future.
Why Use Dogs to Detect Bed Bugs?
On average, dogs have almost 50 times as many scent receptors as humans. The heightened canine olfactory system has been a reliable means of detection for ages. At Midwest K-9 Academy, our bed bug dogs are trained to the highest standards to ensure the most accurate results possible.
Benefits of Canine Bed Bug Detection
Quick and accurate detection, with the added peace of mind brought from the reliability of trained canine detection.
Our teams of trained professional handlers and canines offer complete privacy and discretion. All handlers and dogs are bound by strict NDAs.
Other Common Locations We Inspect Include:

Hospitals & Nursing Homes
Colleges & Dormitories
Libraries
Theaters
Retail & Offices
Homes